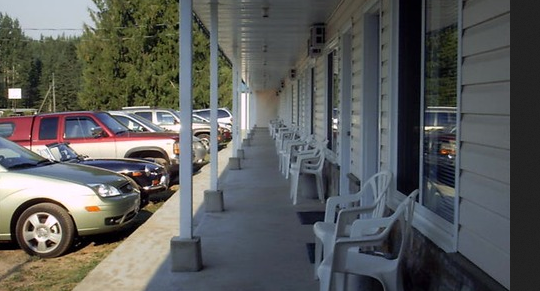 Our newly renovated rooms are clean and comfortable, and have satellite TV and high-speed internet. Courtesy coffee is provided for our guests and ashtrays are available on the veranda. We have Standard Sleeping Rooms, and One and Two Bedroom Kitchenettes. Fully equipped kitchenettes are available for Weekly Rentals. Rates are available here.
We are centrally located, near restaurants, artisans, golf courses, beaches, boat launch, groceries, liquor store, post office, auto service, bank machine and the Kootenay Lake Ferry. Please see our Local Info page to locate us within Crawford Bay. There is much to do and see in the area, please visit the Kootenay Lake Visitors Guide for more details.
An enjoyable trip across Kootenay Lake on the Osprey 2000, the longest free ferry ride in the world, brings you to the renowned Ainsworth Hot Springs, and the heritage towns of Nelson and Kalso.
The lake side road southwards to the Creston is a great scenic drive, well worth the trip. Destination Highways BC calls it "the best motorcycle ride in southern BC."
There is much to see and do in the Kootenay Lake Valley!